Healing Tao for Women and Well Breast Massage
With Caryn Boyd Diel
October 4 - 5, 2019
Based on ancient Taoist alchemical practices, the Healing Tao is a complete system for developing greater Vitality, Creativity, Self-Healing and Inner Peace.  Through the proper circulation of chi, harmonizing the emotions, right nutrition, and good alignment with qigong, one is able to live a long and healthy life.
In this workshop we will practice the 6 healing sounds, Inner Smile, Microcosmic Orbit, Ovarian Breathing, and Breast Massage.  We will also be doing qigong practice, inner journey work, and will discuss ways of cultivating sexual energy and nurturing ourselves throughout our lives.
Using concepts learned from TCM and Chi Nei Tsang practices participants will learn how to lift the bladder and uterus to ease many symptoms.  We will explore a few stretching postures to relax tension in the pelvis.
           Enjoy the sharing and support of other women.
The Inner Smile and 6 Healing Sounds are a powerful way of directing energy to the internal organs and creating a harmonious frequency throughout the body.
Practicing the Microcosmic Orbit, from a woman's perspective, allows a river of pure chi to circulate through the energy field and opens our perceptive abilities.
Ovarian Breathing and Breast Massageplay a vital role in the health and well-being of women.  Tapping into powerful energies of the female body we will learn how to tone our sexual organs and increase overall vitality.  Discussion of Jade Egg practice.
Learn Well Breast Massage and Medical Qigong Point Therapy to enhance the flow of Chi and lymph to the Breast Tissue and to break up the energetic patterns of cysts and tumors.
Instructor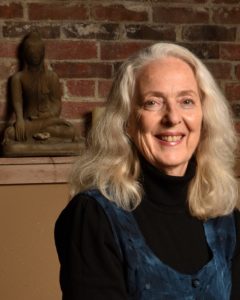 Caryn Boyd Diel
Caryn Boyd Diel is the founder of White Cloud Institute and Senior Healing Tao Instructor. She enjoys teaching others how the human energy field contributes to health and the evolution of consciousness. She combines cutting edge quantum physics with ancient Taoist teachings into her ever evolving curriculum. Caryn teaches Chi Nei Tsang, Crystal Healing and Energy Medicine, Breast massage, Pelvic Health, Qigong & Meditation, Taoist Studies, Love & Destiny Cards, Healing Love for Men and Women, Essential…
Learn more about Caryn Boyd Diel